Welcome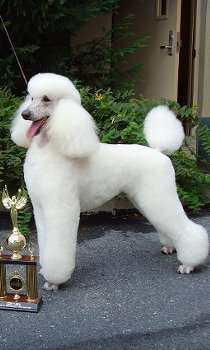 The Companionship and love we share with our pet is often one of our more important relationships we share. Master Stylist Kathi Johnson sees it everyday as the owner and operator of Blue Ribbon Pet Styling.
More and more, people want their pets to have the care they need to lead happy, healthy lives.
Blue Ribbon brings the flair and upscale salon to the midlands with proper products and skill to ensure your pet enjoys those benefits.
Dogs not only look well groomed, they feel better with a Blue Ribbon Style!

Testimonials
"Sophie was beautiful. Booked at end of availability of voucher and pleasantly surprised by ability to be accommodated."
"This is a very professional parlor with some of the most talented groomers in tyhe Midlands. They treated our Sheltie with kid gloves and turned her into a show dog. She had never been groomed before and when we came to pick her up, we thought we had the wrong dog. These ladies are GOOD!!!!!"
"They did a wonderful grooming on Hannah! Very professional and caring!!"
"Facility clean and nice looking. Groomer was very nice and great with our dog. Will definitely be going back."
"They do an excellent job and are very pet friendly! I highly recommend them."
"Nice job, well done. Deals with different dog temperaments well."
"Thank you for giving Sambo extra pats"
"THANK YOU FOR GIVING MY PET A GREAT HAIRCUT"
"Very professional, would highly recommend."